We had the pleasure of having Mariachi 307 join us for our October 2018 concert. What an inspiring group of kids! Their goal is to have kids from every high school in Cheyenne represented in their group this year!
https://www.facebook.com/mariachi307/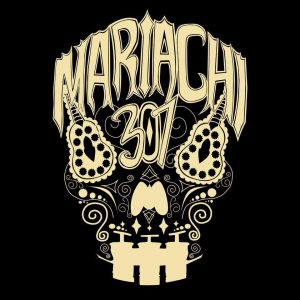 __________________________________________________________________________________
Jaylene Willhite has been employed by the Laramie County School District #1 for the past 29 years.  She presently is the orchestra director at South High School, Johnson Junior High, Afflerbach Elementary.  She is also the founder and artistic director of the Cheyenne Youth Symphony.  She has directed the Youth Symphony for 19 years and has had the privilege of taking the Youth Symphony to perform at the All Northwest Conference in 2002 and 2013.
Jaylene began her teaching career in Lyman NE in 1980 where she taught for 2 years.  She taught the next 9 years in Torrington WY. She also had a large piano studio in Torrington.
Jaylene has been a member of the Cheyenne Symphony Orchestra for the past 30 years.  She has also played with the Wyoming Symphony Orchestra, Panhandle Symphony, Rapid City Symphony and Fort Collins Symphony.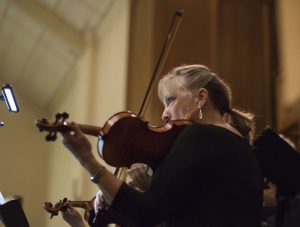 ____________________________________________________________________________________
Jacie Schumacher has been playing violin since the age of 7. She has performed in chamber groups at the American String Teachers Association and the Midwest Clinic. Jacie received her bachelors degree in music education in 2010, and a masters in music education in 2015 both from the university of Wyoming. She currently teaches general music and orchestra at Bain Elementary in Cheyenne.
Photo to come!
____________________________________________________________________________________
The D A Russell Post Band joined us at our concert on Sunday, October 20, 2019 at the South High School Auditorium, 3 pm.
The D A Russell Post Band was started after the founder had noticed that in most accounts of the early days of Cheyenne, there was mention of a band coming out from Fort D A Russell to play. After doing research on brass band music by military bands, he began to collect authentic music from the period as well as some instruments typical of the period. This band is the result. Our goal is to interpret the history of military brass bands. The band is not a reenactment group. We do not represent any specific group present at any time in the past from Fort DA Russell. Instead we wish to share with you concert music of the time from the founding of Cheyenne and Fort D A Russell through the mid 1880s. This time period is defined by the uniform that we wear a version of. Our instruments are consistent with instruments used through that period. The music is authentic to the period of the Civil War through 1867.
This group played its first concert in celebration of the 150th anniversary of The Battle of Gettysburg in 2013. We also played for a couple of events for the celebration of the 150th anniversary of planning and founding of Cheyenne in 2017. We participated in the 150th anniversary of the establishment of the Cheyenne First Methodist Church also in 2017. We played for the recent Capital re dedication and for several events celebrating the 150th anniversary of Women's Suffrage in Wyoming. We are all members of two Brass Quintets that are active in Cheyenne, the Capital City Brass Quintet and the Cheyenne Brass Quintet. We all play or have played in the Cheyenne Civic Concert Band. Most of us have played for the LCCC Concert Band. We have all played in various pit orchestras for the Cheyenne Little Theater. In our daily lives, one of us is a retired insurance adjuster, one is retired from brick laying as well as working in a music store, 2 of us are retired music teachers from Laramie County School District 1, one is a retired church music director, one is a preschool teacher and one is a physician.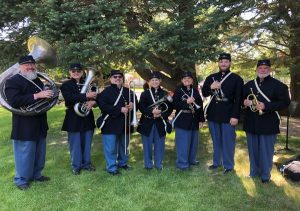 _____________________________________________________________________________________________________
Capitol City Brass has been playing many genres of music at different venues throughout Cheyenne and the surrounding area. Founded in 2005 we have been heard at concerts, church worship services, receptions, weddings, funerals and many other events. As well as playing in the brass quintet, each of the members performs with other organizations from rock to jazz, symphony to concert band and everything in between. The current membership of Capitol City Brass is Ron Swim and Andrew Mrozinsky, trumpets; Cindy Schmid, horn in F; Robyn Young, trombone; Doug Parks, tuba.