The Cheyenne Capital Chorale is a non-auditioned, community choir based in Cheyenne, Wyoming. Going into our 69th year, the choir has been sharing choral music with the Cheyenne community. Performing a repertoire that often features contemporary American composers, sacred pieces, and classical works.
Are you ready??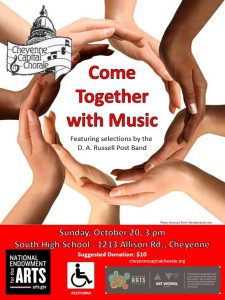 Board Meeting
Monday, October 28th, 6:30-8:00 at the Laramie County Library in the Windflower Room. All members invited!
Return to Rehearsal
Rehearsals have resumed on Tuesdays, 7-9 pm. We'll be accepting new singers for our Christmas concert beginning October 22nd. If you're new, please come a bit before 7 to sign up and get music.
We're already headed into the second part of our 2018-2019 season and preparing for our final concert of the year. Are you ready for the "Little Organ Mass" (Kleine Orgelmesse) by Joseph Haydn? I loved all the sharing of food and fun at the Post-Holiday Part! Read...
Dear Capital Chorale Members, How much fun was our first concert?! I just couldn't quit smiling for our guest performers! Lots of very nice feedback! I'd like to thank Sara Madrid for heading up the volunteer staff for the concert and everyone that helped. What a...