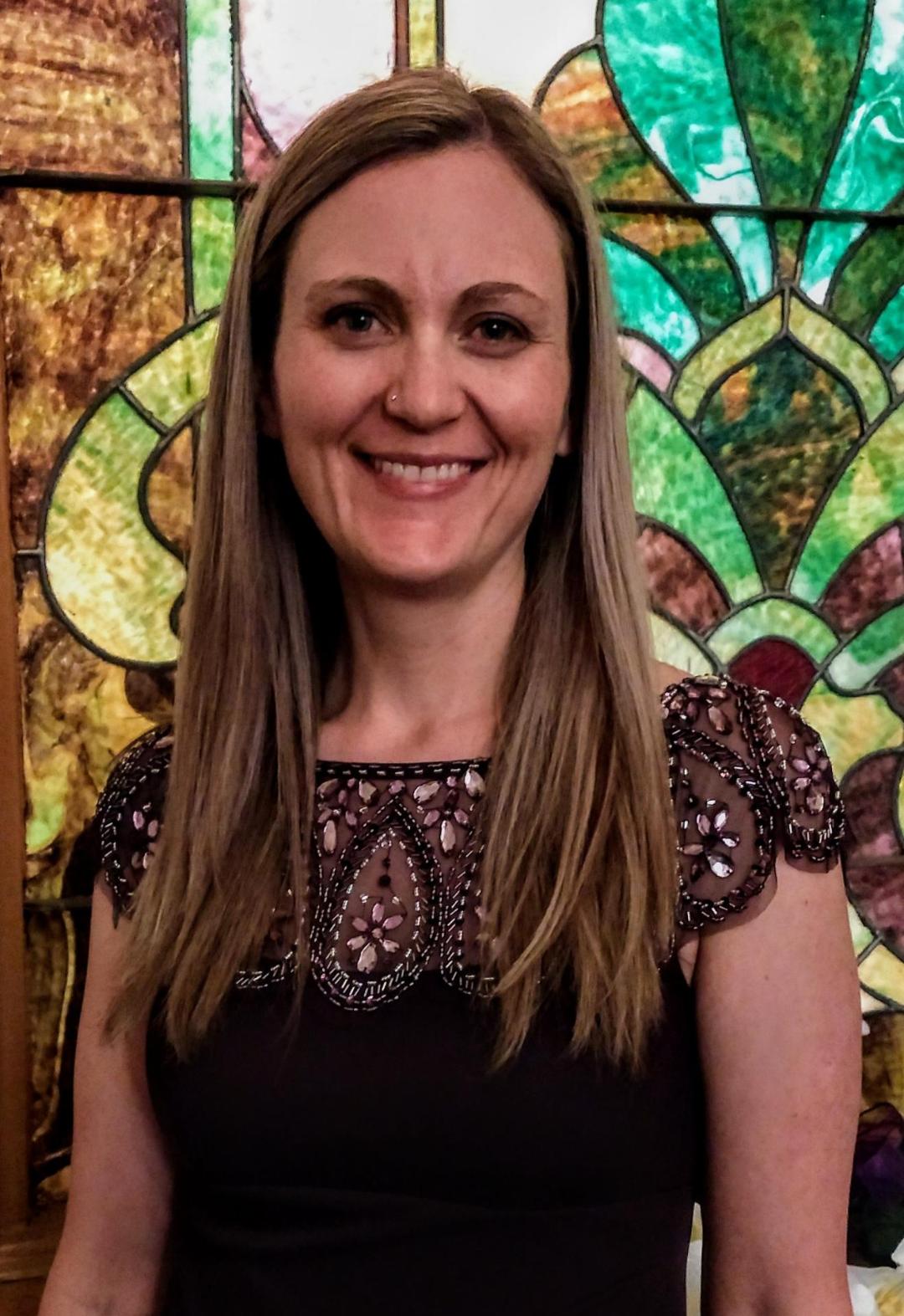 Anne Schatz, our amazing director!
Notes from Anne 04/06/2020
This time has all taken us for a loop. On March 12, I was at the ACDA conference with two young men who were thrilled to be singing in a mens choir. After the first 24 hours of singing, we were told the conference and honor choir was over and that we were saying goodbye right then and there after informally "performing" 4 songs. I experienced a stressful couple of days getting flights changed and planning for an early return while still trying to be a positive and responsible chaperone to my two singers. To say the boys were sad about the experience is an understatement.
 When I finally arrived home to my family, I kept thinking, "It's all going to be fine". And then I was told we were not headed back to school and that Capital Chorale rehearsals were cancelled. I don't know how you dealt with this shock, but I grieved. My heart felt like it was being squeezed and the panic and stress was present every waking moment of my day. The only relief I got was when my exhausted body finally gave in to sleep every night. I cried. I went on walks. I tried hard to keep it together.
 It's now going into week four and my emotional state has shifted. Even though we are still getting notices of longer self-isolation, I find that the immense anxiety has been replaced by a dull ache and feels more like a long bummed-out sigh. Fortunately, I'm also able to feel other emotions like peace, resolve, thankfulness, and maybe even a little joy that I'm able to be involved in some new experiences that allow me to grow.
 I'm working hard on projects that have been neglected around the house. I'm enjoying time with my kids- especially the one who is going to "graduate" in May. I'm practicing piano every day- Brenden and I are having a friendly competition to see who can learn a piano piece faster. I am now finding online options for my school students. I harass my children about having a schedule, waking up by 8, doing schoolwork and chores, and limiting technology. I spend a lot of time walking and sometimes even jogging so that I can spend time outside, and I'm finding as much as I can to be thankful for because when I think of all the very real challenges and crises that many of us are going through I start into a downward spiral.
 I miss you all. I miss the occasional banter during rehearsal. I miss making beautiful music (VOWELS!) together. You are all so special to me and together we are the Capital Chorale -an organization that is only made strong by those who are part of it and I am thankful that we are working together to keep you all safe.
 Please don't hesitate to reach out if you desire. If you want to just say 'hi', want an old school or virtual pen pal,  or have a request for the next time I go to the grocery store, please let me know. It helps me feel good during a time that we could all use a little more good.
 PS- Sara and I are learning about making a virtual choir for those of you who are interested. Hopefully that will transpire in the next couple of weeks and we'll get information to you soon.
 Peace and love,
Anne
 Notes from Anne 10/15/2019
 Vocal health is something we as singers are acutely aware of, especially if we've experienced the challenges that come with a change in vocal production when health is less than ideal. Though many of us know the basics of vocal health I wanted to share a quick reminder to help keep your voice healthy this singing season.
Vocal hydration and keeping the vocal folds moist – We all know that singers need water but often the "why" is misunderstood. Drinking water moistens the vocal on a cellular level from inside the body. When the cells are hydrated and plump they are able to be agile, create your best sound, and protect themselves from damage during regular use.  If you don't love drinking water, try flavored waters, caffeine free teas, and add fruits and veggies full of water to your diet. It goes without saying that foods and drinks that strip the body of water such as salts and alcohol should be used in moderation. Running a steamer also help keep the folds hydrated- especially in our dry and windy climate.
 Avoid vocal misuse or overuse – this includes the following:
Yelling, screaming, and hollering
Throat clearing and coughing
Loud talking
Talking in noisy situations (sporting events, restaurants, bars, parties, social gatherings, industrial settings)
Whispering
Singing without warming up the voice or without singing training
 A few more special tips for singers!
Warm up your voice before singing; cool down your voice after singing.
Consider taking voice lessons to learn how to sing without hurting your voice.
Learn to use your speaking voice in a healthy way by consulting a voice trainer or speech pathologist.
Know your vocal limits and stay within them (pitch, loudness, and endurance).
Rest your voice before and after a big singing day.
Plan your voice use and pace your voice, especially during times of increased vocal demands.
Stop singing before you get tired. If you feel tired, you may have already done too much.
Try not to "spend" your voice on learning the music. You can also learn the music by listening rather than by singing.